New Product - Hot Work Permit Booklet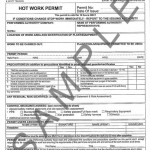 We are pleased to announce the launch of our Hot Work Permit Booklet which is available for purchase online.
The risk of fire is heightened when maintenance staff carry out hot work. A safe system of work needs to be strictly adhered to. Hot work is defined as "operations requiring the use of open flames or the local application of heat or friction". This could include welding, grinding, flame cutting, soldering, brazing.
Our A4 size 25 page set Hot Work Permit Booklet will assist all those involved in arranging and undertaking Hot Work. For further information or to place an order please click here.