Travel & Outdoor First Aid Kit
This kit contains everything you will need for travel at home and abroad. The first aid components are contained in a small compact durable fabric bag.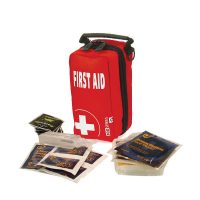 Key features:
Compact
Easy to carry
Durable
Fabric bag
Contains first aid essentials
The kit comprises of the following:
1 Burn Dressing 10cm x 10cm, 4 Cleansing Wipes, 1 Conforming Bandage 7.5cm x 4m, 1 Eye Pad Dressing, 1 Eye Wash 250ml, 1 Foil Blanket, Adult, 1 Guidance Leaflet, 1 HSE Large Dressing 18cm x 18cm, 1 HSE Medium Dressing 12cm x 12cm, 1 Microporous Tape 2.5cm x 5m, 1 Nitrile Gloves (Pair), 10 Plasters, Washproof Assorted, 1 Resuscitation Face Shield, 2 Safety Pins, 1 Universal Shears, 1 Triangular Bandage.
£12.95 plus vat.
Multiple purchases can be made by clicking onto the 'Add to Cart' button.
Delivery is to UK Mainland, other areas POA.