Stay safe on Guy Fawkes Night
Guy Fawkes Night is fast approaching and for many it is a time to prepare the bonfire and get the fireworks ready. Many people enjoy bonfire night and use it as an opportunity to get family and friends together and mark the foiled attempt of Guy Fawkes to blow up parliament.
However, as with any type of fire it is imperative that you take steps to ensure your safety and the safety of those around you. Bonfires can get out of control if not set up and maintained safely and fireworks pose a serious risk to those who don't take the necessary precautions. A properly organised event for members of the public to attend is often a safer option.  All safety precautions are taken care of.  It's fair to say that the bonfire will be bigger and the firework display better than a home made one.
The bonfire
A bonfire is usually the centrepiece to any Guy Fawkes Night celebration but it can also be the most dangerous. It is essential that you prepare your bonfire correctly as fire can spread quickly and easily and get out of control at a terrifying rate. It is always a good idea to read up on some fire safety training when planning your Guy Fawkes celebrations.
It is essential that you do not build your bonfire near to any sheds, electrical wires or fences.  As a rule of thumb, bonfires should be built five times their height distance away from any buildings. Do not use petrol or other flammable liquid as an accelerant as this can lead to the fire burning out of control and injury to the user. Use dry wood not damp as that causes more smoke, never leave it unattended and always keep pets and children well away from the fire. It is also a good idea to pre-warn neighbours about your planned bonfire beforehand to be courteous and also not to cause alarm. Always keep a bucket of water or hose or fire extinguisher if trained in its use, close at hand and douse the embers once the bonfire is finished to eliminate the risk of them reigniting.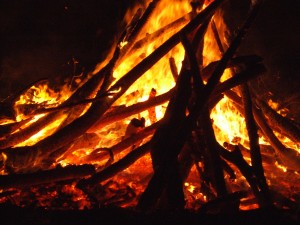 Fireworks
Fireworks may be beautiful but they can also cause serious injury if not handled correctly. Knowing some firework safety tips before your bonfire celebrations is essential. Keep fireworks in a closed container ideally a metal one and replace the lid once a firework has been removed. Ensure you read and follow any instructions on the fireworks.  Always make sure you in-bed any firework firmly into the ground before lighting it to ensure it does not tip over when lit. Use gloves and eye protection when lighting the firework to protect you and never go back to a firework once it has been lit. Make sure that you are in an open area when letting off fireworks with no overhanging trees or cables. Keep children and pets well away. Stand well back once a firework has been lit to reduce the risk of it hitting you when it goes off.
Be safe this bonfire night. Do not forget that fire can be deadly and whilst you want to have fun – safety always comes first.