Tool Kits
A choice of Standard or Comprehensive tool kits.
Both tool kits which include standard and specialist tools in order to service portable fire extinguishers.
The Standard tool kit includes the following:
1kg spring balance, 20kg spring balance, strap wrench, 10" adjustable spanner, rubber mallet, torch, wire brush, swivel C spanner, set of metric spanners, set of metric allan keys, 3 x Pressurising Bars (TG, Gloria, Jewel), plain screwdriver, philips screwdriver, petroleum jelly, gauge test pump (wika), gauge dots, corrective action required labels, tamper seals (500).
£285.00 plus vat.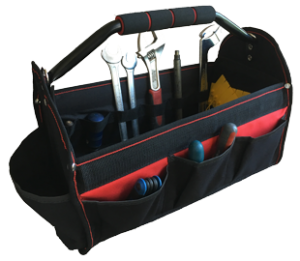 The Comprehensive tool kit includes all of the above and in addition the following:
Nitrogen Regulator (28 bar), charging hose, adaptor set,
extinguisher V clamp.
£545.00 plus vat.
As a tool holdall is a personal choice the one pictured is for illustrative purposes only and is not included but can be purchased separately by clicking here.
Maintenance Labels can be purchased separately. These labels are personalised with company details and logo. A choice of finish is also available. They can be purchased by clicking here.
Multiple purchases can be made by clicking onto the 'Add to Cart' button.
Delivery is to UK Mainland, other areas POA.
Anyone involved in the servicing of portable fire extinguishers should be qualified and competent to do so (BS5306:3-2017).
We provide a Fire Extinguisher Maintenance Course. Delegates upon completing the course and successfully passing a BAFE written and practical assessment will be qualified to service and maintain portable fire extinguishers and will receive an industry recognised qualification and certificate.